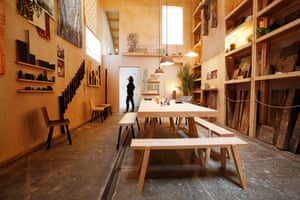 Az elmúlt napokban nem csak a Kepesita Collection díjátadóját követhettük figyelemmel, hanem a művészeti világ számára kulcsfontosságú Turner Prize zsűrije is kiválasztotta idei nyertesét. Az eseményről/ In the past few days it was not only the Kepesita Collection that selected a winner, but one of the most prestigeous awards, the Turner Prize was also handed over. Of the event see the link:
http://www.tate.org.uk/whats-on/tramway/exhibition/turner-prize-2015
"Művészet? A vízvezeték szerelés jobban érdekel minket"/ "Art? We are more interested in plumbing"
A zsűri választásában a legérdekesebb, hogy a nyertes csapat, as Assemble nem definiálja magát művészként, hanem a fiatalokból álló kollektíva az építészet, a design, a művészet és a vízvezeték szerelés, csempézés és duguláselhárítás eszközeivel dolgozik egy élhetőbb társadalomért / The most curious about the decision of the jury is that the winner; the Assemble, does not define itself as an artist collective, they are rather a group of young people who work for a more livable society with the tools of architecture, design, art as well as plumbing.
http://www.theguardian.com/artanddesign/2015/dec/08/assemble-turner-prize-architects-are-we-artists
Jó kérdés, hogy hogyan reagál majd a műpiac/ One wonders how the art market is going to react:
http://www.theguardian.com/artanddesign/2015/dec/07/turner-prize-2015-assemble-win-by-ignoring-art-market